If you've been to Amazon recently, you'll notice a few books of mine are missing, notably the Angels and Assassins series.
Now, don't freak out…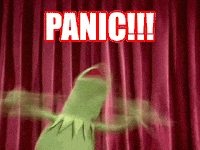 …or is it too late?
They'll definitely be back.
There's just been a change of hands. The publisher returned the rights to the titles, so I simply have to republish them.
Now that I have them, I realize I've missed them. I've also been feeling a little carpe-diem-sentimental as of late.
So, I was wondering if you guys could help me out with a little feedback.
I created a survey here:
It's extremely short, and I'm giving away a $10 Amazon Gift Card.
If you complete the survey here on the blog (instead of my mailing list), let me know in the comments or through DM, email, text message…however you'd like. That way, I can make sure to record your response for the giveaway.